LILO workshop in Harare advances GESI strategy in Zimbabwe ECID programme
The Gender Equality and Social Inclusion (GESI) strategy that underpins the ECID project was significantly advanced in Zimbabwe through a looking inward, looking outward inclusion workshop In November.
ECID's GESI Strategy prioritises three strategic objectives, each intended to support the programme with its ambition to transform gender equality and social inclusion.
The three-cross cutting GESI objectives, looking inward and outward, are:
Mainstream GESI within the programme's organisations and institutions (looking inward).
Mainstream GESI across programme delivery in each of the three countries to achieve transformative change (looking outward).
Use evidence to support collective action to facilitate GESI transformative outcomes and a positive enabling environment for women and girls and other marginalised groups in each of the three countries.
An action under objective 1 is to carry out an annual GESI scan within ECID itself – involving the Christian Aid teams, and the consortium and implementing partners.
The primary tool for advancing the objectives of the GESI strategy and reinforcing the GESI scan in-country is the LILO Inclusion workshop. Originally planned for May 2020, COVID-19 delayed the roll out of activity. However, in November this face-to-face workshop finally took place in Harare.
Looking In, Looking Out (LILO) are a series of facilitated workshops that aim to achieve attitude change through a personalisation approach. The 'looking in, looking out" of LILO mirrors the "inward and outward" focus of the GESI Scan. Frontline AIDS worked with ECID consortium members and Positive Vibes in Namibia to develop a bespoke curriculum for the programme. "LILO Inclusion" focuses on gender and specific marginalised groups identified during the Gender Inclusion Power and Politics (GIPP) assessments in each country.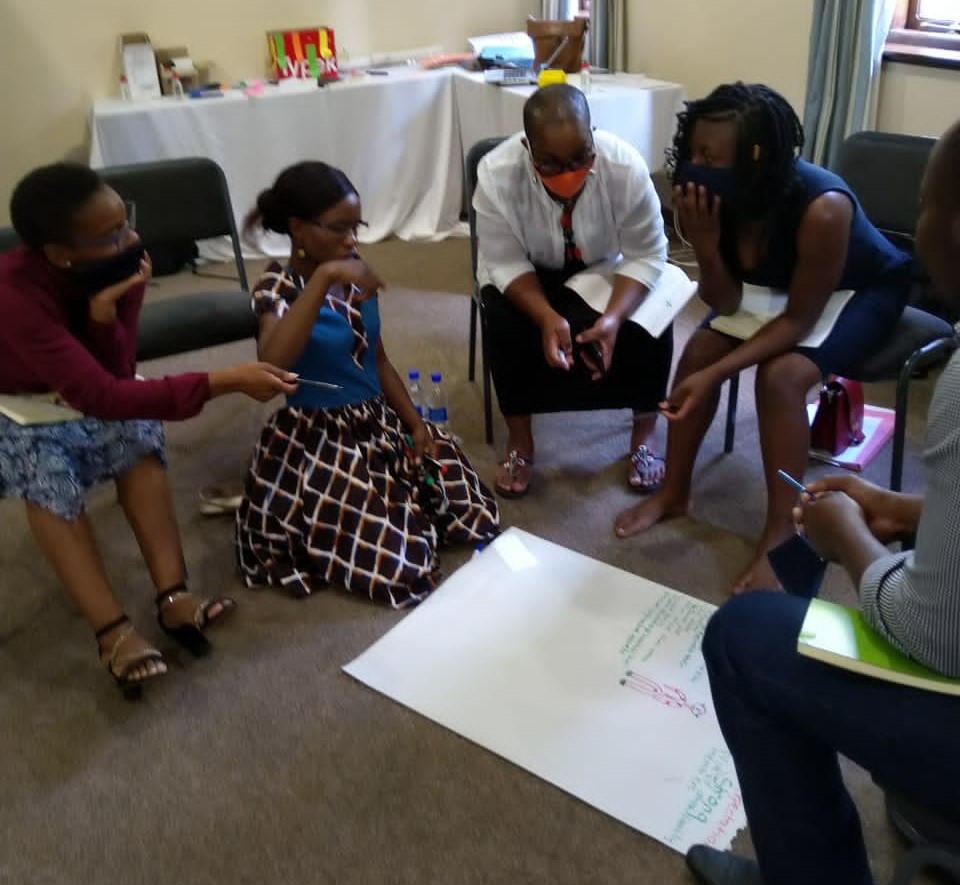 The overall purpose of LILO Inclusion is to assist workshop participants to move towards more positive attitudes to people who are highly excluded and marginalised due to one or more overlapping discriminations, such as gender, ethnicity, disability, health status (including HIV status), sexual orientation, drug use, religion or age.
The first roll out was done in Harare from the 16-20 of November, conducted by two experienced facilitators, Patsy Church and Diana Mailosi from South Africa and Zimbabwe respectively. 11 people participated in the workshop from 5 different organizations, including Christian AID Zimbabwe, Family AIDS Caring Trust, Ntengwe for Community Development, Women's Academy for Leadership and Political Excellence, Federation of Organisations of Disabled People in Zimbabwe and Women and Law in Southern Africa. The first half of the week took participants through the LILO methodology while in the second half of the week, 7 of the 11 participants were trained as facilitators in delivering the methodology.
Some of the topics covered included examining personal values and attitudes, marginalisation and mattering (feeling valued), how gender has impacted on individuals, gender and power and navigating a disenabling world. There was a strong stress on disability as a form of social exclusion.
"This training has been an eye opener and intriguing. I feel challenged to always consider my values, attitudes and behaviour that they may not lead to prejudice and marginalization of others. Change begins with me"

Project participant during reflection session.
The next step in the roll out is to take this methodology to two provinces in Zimbabwe: Matebeleland north (in the districts of Lupane and Binga) and Manicaland province (in the districts of Mutare and Mutasa.) Partners will bring together key CSOs and government stakeholders to once again examine their own beliefs, attitudes and behaviours around marginalisation and exclusion.
The next GESI scan in 2021 should bring to light some interesting findings and hopefully a shift in attitudes and behaviours towards the most marginalised.