Community members of Fada Ward, Jaba, Nigeria, call for improvement in water supply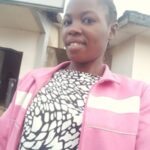 Monica Ibrahim is a trained community reporter on the ECID project in Jaba Local Government Area (LGA) and she has taken time to provide an insight into how the project has given voice to the voiceless at Fada ward through the Our True Voice project.
The past six months have been difficult moments for the people of Fada Ward in Jaba, one of the local government areas in the southern Kaduna state of Nigeria. In many parts of Nigeria, access to safe and affordable drinking water is a challenge many poor homes grapple with, but for the past six months, the people of Fada ward have experienced the worst of this problem.  Women, adolescent girls, children, and old people, trek long distances to nearby wards, wait in long queues for hours just to get a gallon or bucket of water.
Over the years, the Government provided water through the water facility situated in the communities in Fada Ward. Community members were served with water three times weekly. This enabled community members to store enough before the next supply.
Unfortunately, the provision of water is not happening any longer and things are becoming unbearable. I call on the local government to prioritize water provision for the people of Fada. I am also appealing to the leadership of the community – the traditional leaders, the ward councilors, chairman, and other stakeholders to repair the existing water facilities in our communities.