Monitoring progress of infrastructural development in school at Igbakwu Community, Ayamelum, Nigeria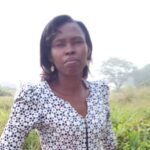 Chinyere Ogugua Okafor
Nigeria
Reporting topics:
Infrastructure
A basic principle of democracy is that citizens have a right to demand accountability from those leading in governance. Most often than not, when citizens could do so, services are not only improved but meet the needs of citizens. The ECID Programme supports citizens to have a much clearer understanding of their rights, feel more empowered to contribute to decision-making processes, have their voices heard and their needs met. Chinyere Okafor Ogugua, a female ECID Community Reporter based in Igbakwu Community, Ayamelum, Nigeria, shares a chronicle of the progress of education infrastructure in her community.
I had the opportunity to join Parents and Teachers at a meeting held on 9th February 2021 at a Community Primary School in Igbakwu Community to discuss the welfare and well-being of the school. Some of the challenges identified at the meeting included among others: A lack of appropriate classrooms and limited staff. Three of the classes had no Teachers. I advised them to look out for teachers with higher qualifications and employ them to fill up the vacant classes.
On 12th Feb 2021, I visited the Model Primary School at Igbakwu. The classrooms were without a roof for some time after it was damaged. On my next visit on 21st April 2021, renovation works had begun. The woodwork for the roofing was almost completed. I spoke with the Contractor of the Project and he informed me that he was expecting the delivery of roofing sheets to complete the work. I was happy with the progress of work; workers were busy at the site. Mr Emeka, the contractor in charge of the project has been very responsive and shares information with any time I need it.
Though women have been treated with so much disdain that they are been relegated to the ground and not to be heard and speak in the community, I am happy that I have been able to make a difference in the lives of the people in my community. They see help and solutions coming their way and that their needs are been heard and given attention.