The death of a husband leaves his family desperate in the midst of COVID-19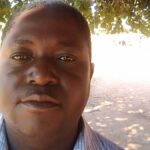 Elliot Mugande
Zimbabwe
Reporting topics:
Women, people with disabilities, Covid-19, livelihoods
From Binga, Zimbabwe, Eliot Mugande, is a Community Reporter for the ECID Programme in Zimbabwe. He presents a chilling account of how COVID-19 has turned an otherwise happy home into one of sorrow due to the pandemic.
Anna Siamwinga is a mother of 4 children. She lost her husband to COVID-19 last year in Bulawayo. After the death of her husband, Anna was left with the responsibility of catering for the four children all by herself. She quickly started to run a business as a vendor selling small items for the benefit of the children.
Three months after her husband passed away, Anna is no longer doing her business. She is broke and no longer has money to carry on with her business. Now, the children are starving. She spent all the reserved money on food, clothes and medication. Her children can no longer go to school because there is no money left to pay school fees and buy books and other learning materials. Covid-19 has put Anna's family in desperate need.