Webinar: Data for policy and decision-making
As we know marginalised groups such as people with disabilities, adolescents and poor rural women have always been at a disadvantage and are more likely to be affected more adversely by the impacts of the #COVID19 pandemic.
This is the second in the series and it is focused on Anambra state, Nigeria.
Join the discussion as Temitope Fashola- Programme Manager, Democracy and Good Governance, Christian Aid Nigeria hosts a Zoom webinar themed 'Data for policy and decision-making in the context of #COVID19'. Pt.2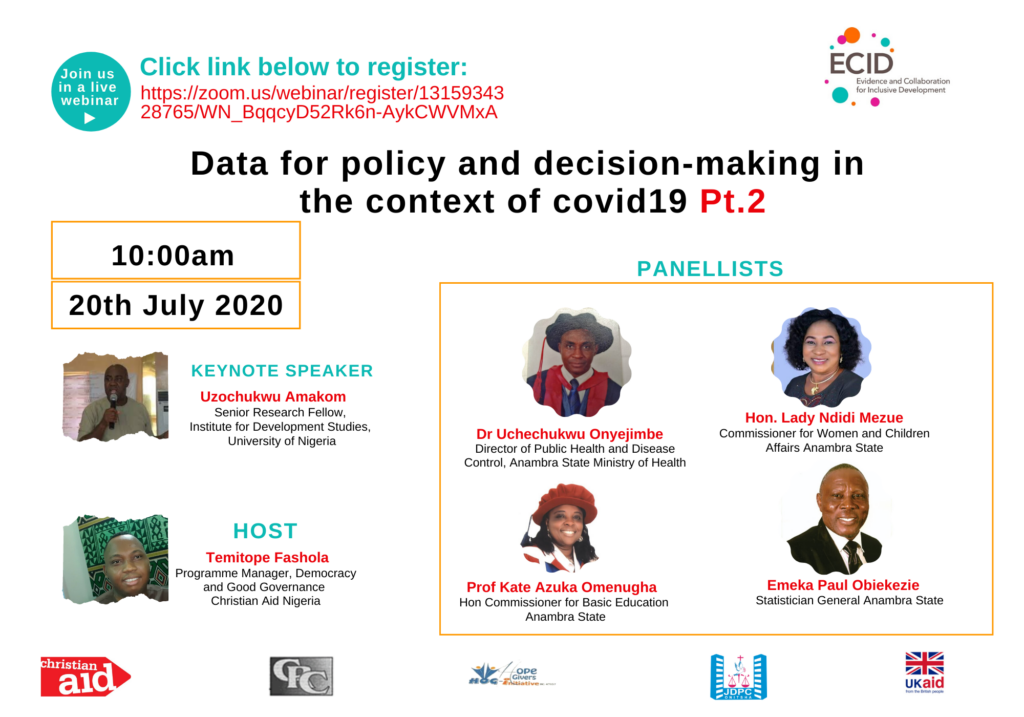 Panellists include:
Prof Kate Azuka Omenugha
Hon Commissioner for Basic Education Anambra State
Emeka Paul Obiekezie
Statistician General Anambra State
Hon. Lady Ndidi Mezue
Commissioner for Women and Children Affairs
Anambra State
and a host of others.
Save the details:
?: Monday 20th July 2020
⏰: 10:00 AM WAT
?: Zoom: Attendance is free but registration is needed
Just click the link below?:
https://zoom.us/webinar/register/1315934328765/WN_BqqcyD52Rk6n-AykCWVMxA