Seven tools for collaboration in the third sector
Those of us in the third sector often talk about working together, working in partnership, in collaboration, in movements and alliances, using multi-stakeholder processes, or harmonising and synchronising our work. It didn't take too long to rattle off a few common terms! The hope of improved outcomes and results drives us on 'together'. But are we really working together and really collaborating well?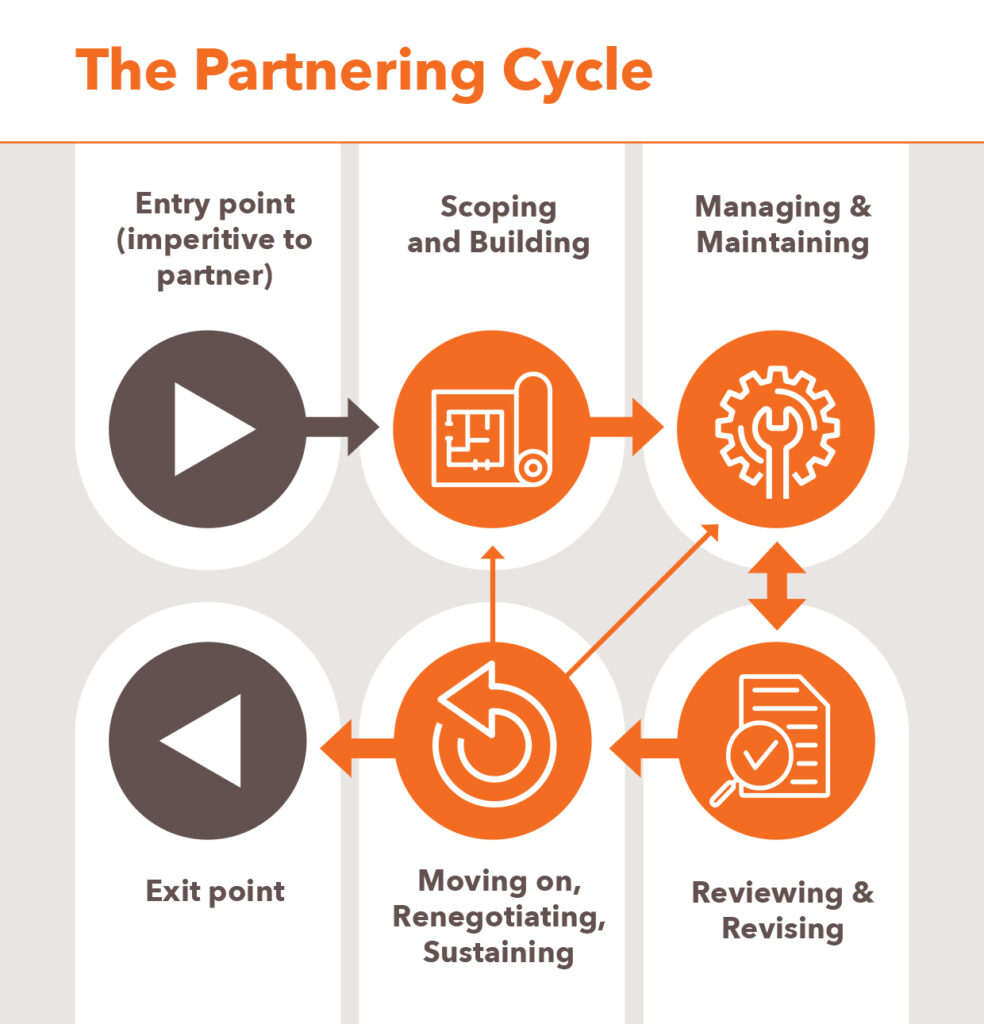 Effective collaboration does not appear from nowhere, it requires substantial effort and consideration of how you think as an individual, as well as the culture of your organisation. We must be intentional about setting up effective collaboration in our work.
A new resource, How to Strengthen Collaboration, developed by The Global Network of Civil Society Organisations for Disaster Reduction (GNDR) and The Partnering Initiative (TPI), launched by the Evidence and Collaboration for Inclusive Development programme (ECID), aims to connect civil society actors, across various sectors, to better understand and address the barriers they face in a more coordinated way, and to provide them with tools to support their partnership working.
Here are seven tools to think about to sharpen our collaboration practice:
Guidance on what to include in a partnering policy will help your organisation consider what type of collaboration they seek, and why and how to set out their approach to it. This enables civil society organisations (CSOs) to prioritise collaboration. Partnerships are more than a quick one-off project. They require considerable time and effort, in order to develop commitment from all partners to work together in a meaningful way.
A tool identifying the added value of partnerships supports how to set out a co-creative process to equally share in the partnership from the start. This allows us to share the benefits and risks of collaboration and ensures better engagement and build equity and trust amongst partners. We should always aim to deliver impact far greater than the sum of the parts – whether individually or organisationally, we must gain value from working with others. Otherwise we might as well just be working alone. Review your agreed roles on a regular basis to help keep everyone committed.

Our Prospective partner/partnership assessment tool will help you consider this if the partner is right for you. Don't collaborate if it is not right. Consider the risks you are taking on when working with others. Whether it be risks to marginalised groups with whom you are working, reputational damage to your organisation or other organisations not having the right structures in place to work effectively with you, then it is ok to say no to the collaboration.
A Partnership agreement template can be used when you've decided to go ahead. This helps CSOs define collaboration they want to achieve and capture mutual expectations. There are so many different ways we can work together that there needs to be a clear alignment of interest with complementary resources and competencies. Take time to consider who you would like to collaborate with, and what your respective objectives might be of doing so.

The partnership health check guidance helps monitor how well the collaboration is going so that the collaboration remains relevant to ongoing work.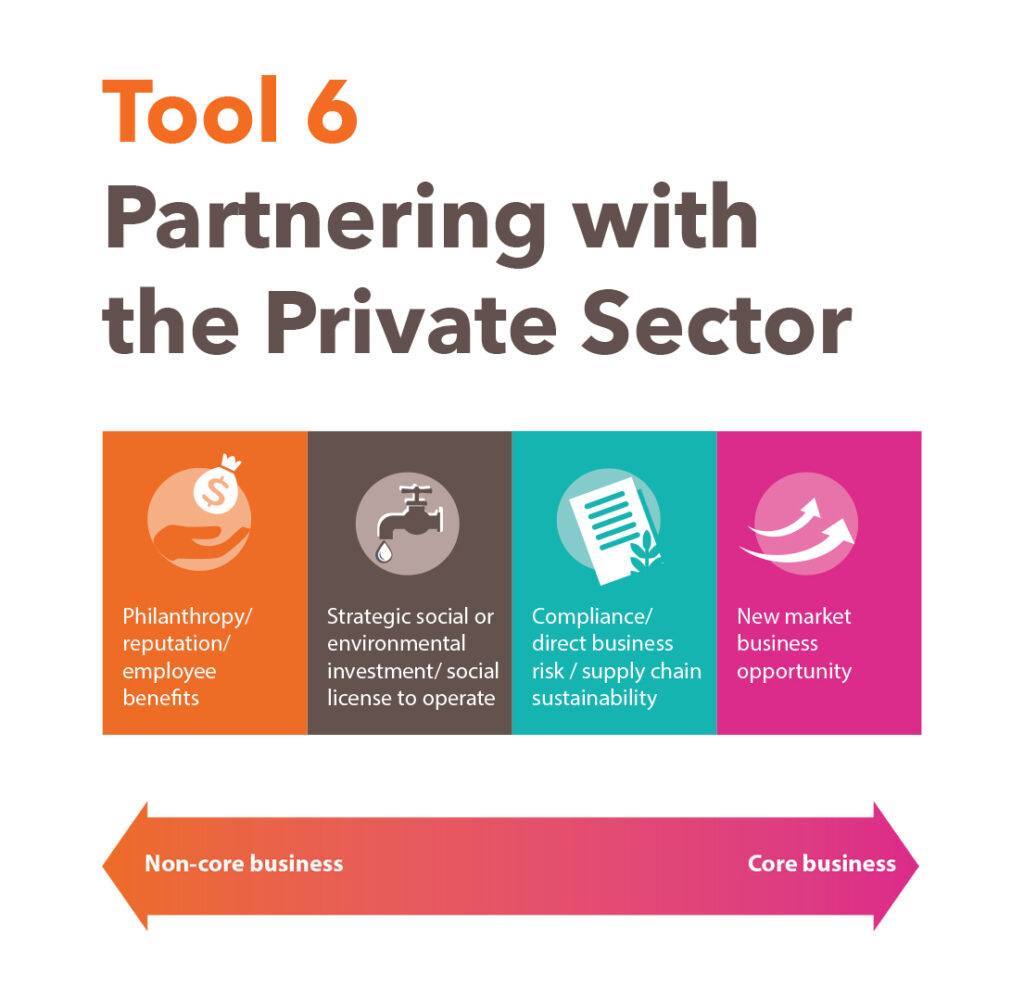 Our partnering with the private sector guidance will help you think through new and different ways of collaboration. Be bold in your collaboration! Partnering opportunities with actors not traditionally associated with the third sector may be the answer to seeing our work move faster, and towards significant change and impact. The private sector (companies and businesses) can be seen as damaging to social and community cohesion, but just because they are 'for profit' it doesn't mean they are bad.
See page 34 of the toolkit for Tool 6: Partnering with the Private Sector
Lastly, transitioning guidance can be used to positively leave a collaboration when it has served its purpose and perhaps is no longer relevant. We hope it helps everyone involved to negotiate necessary transitioning conversations and actions.
See page 38 of the toolkit for Tool 7: Partnership Transitioning guidelines
Partnerships are dynamic and constantly evolving. We encourage readers to use the resource "How to Strengthen Collaboration: A toolkit for civil society organisations" to reflect on their partnerships and contextualise the tools for their own work. If we get it right, we can create powerful and transformative change.
To access the collaboration guide, please visit https://evidenceforinclusion.org/collaboration-toolkit/
We welcome your feedback – please do let us know how you are using the guide. Any success stories, suggestions or questions are welcome – email elise.belcher@gndr.org
The Partnering Initiative is a leading international NGO, dedicated to the power of partnership for a prosperous and sustainable future. GNDR is the largest international network of CSOs working to strengthen resilience and reduce risk in communities.
Elise Belcher, Project Coordinator, GNDR.